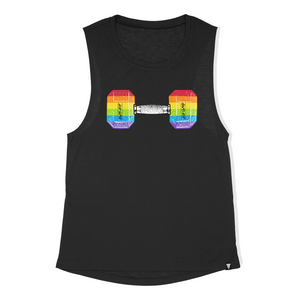 Rainbow Dumbbell Muscle Tank (Lg Only)
Regular price $34.95 Sale
This Much We Know:  
2020 has beat us down and shown us new things at the same time. 
If you are like us, you have spent much of 2020 working out with one or two dumbbells. We have always been a fan of most kinds of weights and want to come out of this year with a new respect for the versatility and compactness of the dumbbell.
OUT-FIT Rainbow Dumbbell T (See All Cuts Here)
The shirt sums us up nicely. It conveys simply our love of fitness and all things gay. 
Here is your chance to own our signature Rainbow Dumbbell t-shirt. It's very popular, and for good reason. It's very popular, and for good reason. This soft and versatile t will become your go-to in and out of the gym. 
It's extremely soft and comfortable because it's combed and ring-spun cotton. It's durable, which makes it perfect for the gym. It looks great, which makes it great for outside of the gym
The message is simple and yet powerful at the same time. Share with the world that you are proud! 
Mens/Unisex shirt
1

00% Airlume Combed & Ring-Spun Cotton

Sideseamed
Color: Black 
Front: Rainbow Dumbbell/Back: Blank
Reference the sizing chart below.
Size               Chest to Fit
Extra Small    31"-33"
Small             34"-37"
Medium         38"-41"
Large             42"-45"
Extra Large    46"-49"