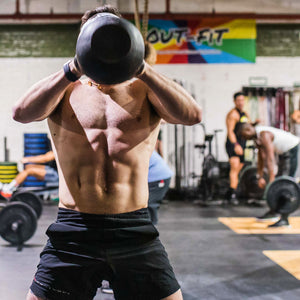 1-on-1 Personal Training Packages
Regular price $1,100.00 Sale
1-on-1 personal training is the most efficient use of an hour
(55 minutes to be exact).

Maybe you are too busy to program for yourself or wait around for group classes. Maybe this is your first real push into the fitness world. Maybe you can't get out of a rut and need help. Maybe your current workouts seems stale and stopped working. There are many reasons that our clients get personal training, but they all are working with highly experienced coaches in queer friendly spaces.  
In Person Private Training
Individuals in NYC have the ability to train one-on-one with one of our highly qualified trainers. The options include seasonal workshops, small group and one-on-one training. We will plan to introduce you to our highly rated "Introduction to Training" package, unless you have something else in mind.

We train out of our private workout studio in Chelsea. 

OUT-FIT Workout Studio - Chelsea, Manhattan

Virtual Private Training
Athletes not located in Manhattan, or not interested in traveling, have the option of OUT-FIT Virtual Private Training.
This option looks different for different athletes. Some have one or two weights at home, some have more of a home gym and some FaceTime from wherever gym they normally workout at. If you are interested in this option - send us an email and we can find a time to hop on a call. 
Ongoing person training will keep you accountable and on track. 
Pricing: 
10 Session Pack - $110/session
24 Session Pack - $105/Session
Questions? Send Us Your Question Here 
Or email us at training@out-fit.org
24 hour cancelation is required. Less than 24 hour notice results in a session being used. Sessions are 55 minutes and expire 4 months after purchase date. OUT-FIT - Gay Personal Training in NYC and Virtual.