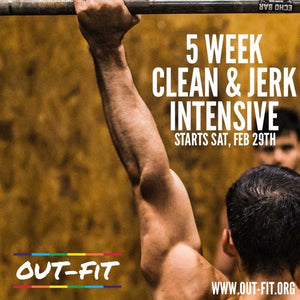 5 Week Clean & Jerk Intensive - NYC
Regular price $245.00 Sale
Improve Your Clean & Jerk
Sara Carr and Mike Castaldy will be holding a 5-week long Clean & Jerk intensive.  Sessions will be weekly on Saturdays at 1pm and limited to 6 people to allow for plenty of individual attention. Throughout the program, athletes will work on different drills to fix each part of the movement.  Programming will be completely individual based on what the athlete needs. In addition, each person will receive specific mobility and stability homework. 
Clean & Jerk Intensive Dates
All days are Saturdays at 1pm
Session 1: Feb 29th
Session 2: March 7th
Session 3: March 14th
Session 4: March 21st
Session 5: March 28th
Location & Cost
Location: CrossFit NYC Flatiron (50 W 28th Street btwn 6th and Broadway)
Cost: $245
Sign Up Here
If you are interested but can't commit to all of the dates and times reach out to us at weightlifting@out-fit.org and we will see what we can do!