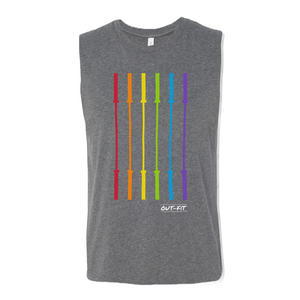 OUT-FIT Barbell Flag Muscle Tank - Light Grey
Regular price $34.95 Sale
Imagine This:  
You just finished your third Olympic Weightlifting Meet. You went 5/6 and PR'd your total by 7 kilos. The day is a success and you plan to ride that wave!  
There is another lifter that you were pretty much going head to head against. You think it would be good sportsmanship to go congratulate them - plus you wouldn't mind learning their story. 
You head to your bag and pull out your rainbow barbell tank. While you are putting it on over your sweat drenched singlet you wonder if this is necessary. 
You pause and look up for a moment.  That's when you make eye contact with them and smile - they quickly smile back! No turning back now. You walk over to say hi and it looks like your day just keeps getting better. 
OUT-FIT Barbell Flag Muscle Tank (See the entire Barbell Flag Collection)
The Muscle Tank sums us up nicely. It conveys simply our love of fitness and all things gay. 
Here is your chance to own our signature barbell flag muscle tank. It's very popular, and for good reason. This soft and versatile t will become your go-to in and out of the gym. 
It's extremely soft and comfortable because it's combed and ring-spun cotton. It's durable, which makes it perfect for the gym. It looks great, which makes it great for outside of the gym
The message is simple and yet powerful at the same time. Share with the world that you are proud! 
Unisex Tank Top
100% Airlume Combed & Ring-Spun Cotton
Sideseamed
Color: Heather Grey 
Front: Barbell Flag/Back: Blank
Reference the sizing chart below.
Size               Chest to Fit
Extra Small    31"-33"
Small             34"-37"
Medium         38"-41"
Large             42"-45"
Extra Large    46"-49"