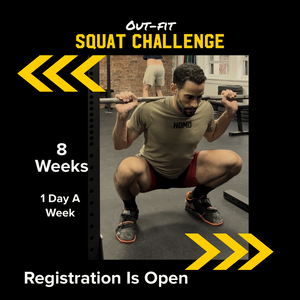 Squat Challenge 1.0 - 8 Week Program
Regular price $80.00 Sale
Focus and Improve
If you're a CrossFit athlete or regular gym goer you know the power of having strong legs. This 8 week, 1x a week program will improve your back squat and overall lower body strength. 
The Right Focus
Straightforward and uncomplicated. Squat heavy once a week and improve your lift. 
Included in the Program
- 8 Weeks of Programming
- 1 Day Per Week
- TrainHeroic App for programming and tracking
- Demonstration Videos 
- Digital Coach Access
Athletes will receive set-up emails (from TrainHeroic) with in 24 hours of signing up. 

Sample Training Day
Prep/Warm Up (15min)
3x
7 Inch Worms
7/leg Cossack Squats
7 Tempo Goblet Squats
Strength (25min)
Back Squat 5x5, Across
Accessory (18Min)
3x
7/Leg Bulgarian Split Squat
7 Barbell Good Morning 
7/arm Dumbbell Bench Press
Not Sure? 
If you got this far, you're definitely interested.
So:
1. Just do it and sign up.
Still Have Questions? email training@out-fit.org
OUT-FIT | 9 Years of encouraging gay athletes to achieve extraordinary physical goals while maintaining mental health and promoting social equality. Gay Personal Training in NYC and Virtual. Queer Group Fitness.